Check out this video of an actual installation
Our Piering System
Our Pier "Piering System" is uniquely designed to provide our customers with the industries deepest and strongest system.
Our Pier is a Concentric Loading Pier. It transfers the building load in a straight line, directly under the foundation wall.
Our Pier was the pioneer of Tubular Steel pre-cast "filled" with high strength expansive concrete mortar.
Our unique welded Head assembly with fully encased shim points assures a perfect under all footing conditions.
Our installation done by hand digging with shovels, so we do not tear up lawns and landscaping
Our hydraulic lifting method provides for pin point control and accuracy every time.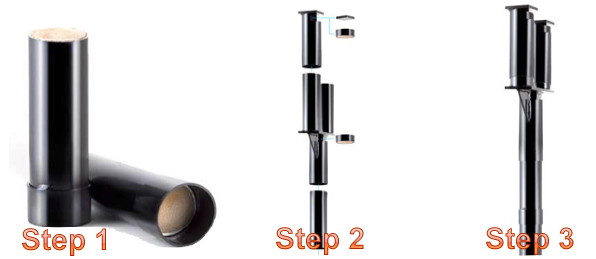 Other Company's Piers
Most other Foundation Piers are Eccentric Loading Piers. The building load is offset up to 4" from the shaft and is not in a straight line.
Other Foundation Piers offset load causes Shaft buckling stresses excessive Pier head rotation.
Other Foundation Piers are hollow pipe without any cast strengthening causing weakness.
Other foundation piers require big heavy equipment to excavate and install with limited access to tight areas and interior applications.
Other foundation piers use a lifting method that does not provide individual pier accuracy.
Other Foundation Piers are antiquated and more expensive.