For foundation repair in Kansas, you can count on the professionals at Advanced Systems of NE Kansas to get the job done right. We consider no job too big or too small, and we customize our service to fit your needs. We offer free inspections and cost estimates so you'll know what to expect.
When you need foundation repair in Kansas, the smart choice is Advanced Systems of NE Kansas. Our Perfect Pier system gives us an advantage over all other foundation repair contractors in the area. We know what to look for, and we know how to solve the problem. Don't wait, call us today and let us get your foundation back in optimum shape!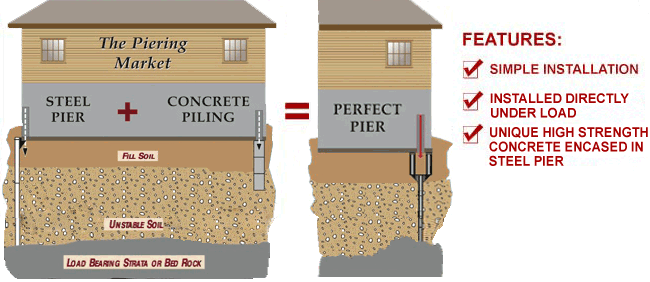 Signs of Foundation Failure
Inside of the House
Cracks in drywall
Doors and windows that stick
Cracks in floors and tile
Misaligned doors and windows
Outside of the House
Gaps around doors and windows
Cracks in foundation
Stair step cracks in brick walls
Fascia board pulling away
Chimneys tilting or pulling away
Garage
Separation from door
Walls rotating out
Stair step cracks in brick walls
Basement of House
Walls leaning in or out
Cracks in the poured or block walls
Water leakage at base of walls
Evaporation
Hot and dry conditions cause soil to shrink
Transpiration
Tree roots dehydrate soil, causing soil shrinkage and settlement of your home's footing/slabs.
Drainage
Improper drainage causes increased hydraulic pressure in basement walls.
Poor Building Site Preparation
Improperly compacted fill soil causes construction problems.
Poor Soil Conditions
Expansive clay soil and organic debris cause contraction and expansion of the soil. These conditions contribute to structural failure.